Allowing customers to comment on your products is a great way to get them involved more in your company. In the past users had to sign into your e-commerce site to leave comments. You would get an e-mail to verify your username and it all took a time and was a little bit annoying. Today facebook has a comment widget that makes it easy for users to leave comments on your site. If they are logged into facebook all they need to do is just type their comment and click a button.
I recently did a promotion where I gave away shirts for the best comments on my shark week shirt.
Some of my favorite were:
"ARE YOU KIDDING! A shirt all for shark week! I live, eat, and sleep, shark week. Just kidding I don't because I don't leave the TV to live, eat, or sleep. Can't miss an awesome shark attack or a feeding frenzy on a whale carcus! This is the reason why I was born shark week was dedicated to me because it's in my birth month….that was totalyl on porpose for me of course."

"There are a lot of shirts out there that have a "Motto", but this one actually has a mantra to live by. I started living every week like it was shark week. I would sneak up on unsuspecting prey and jump out in front of them, teeth glistening in the sun. The guy at the bus stop gave up the bench for me. The guy behind the counter at the 7-11 said I didn't have to pay for my slurpee! I even got a date with that cute waitress at the Waffle House cause, just like a shark, I waited for the right moment and she was cornered when I jumped and bared my evil pearly whites! This shirt has made my life complete! Today I plan on swimming down to the Porsche dealer and doing the jump attack. I know I'll be driving home in a new convertible! All thanks to my new shirt….and my new mantra!"

"The definition of the word Shark means: A creature that will literally eat your face off. I learned this from my studies in Marine Biology while earning my Doctorate at the Prestigious University of Austin Community College. For a man to create a shirt that truly embraces a shark and the culture humans have built around it means that the man himself must have been a shark in a past life. This also meaning the man must have sexual intercourse with a female partner at least 3-5 times a day. He must also have a genitalia so massive, it could cure even the biggest of shark's hunger. He is also a badass who can tell Sharks to back the fuck off by punching them in their damn faces! SHARK WEEK! SHARK WEEK! SHARK WEEK! Shark week tames my inner shark! I would beat the shit out of Shark Boy and Lava Girl because I am a shark. Swimming is for pussies Michael Phelps, I'm a fucking Shark and will destroy you in the water. ALL MY FELLOW SHARKS, WHERE YOU AT?"
The other awesome thing about this widget is it will post the comment on their facebook if they chose to. So your comment is shown on their wall to all their friends, it is an great way to get more traffic to your site. I also setup this widget on my friends site.
Get the facebook comment widget here
http://developers.facebook.com/docs/reference/plugins/comments/
Need an E-Commerce Website?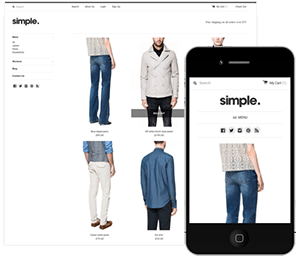 Shopify
is perfect for beginners and experts. You don't need to have any technical or design experience to easily create a beautiful online store with your branding. Choose from tons of well designed e-commerce templates that look great on desktops, phones, and tablets. Easily customize, create pages, add products, and you're pretty much ready to accept payments. Plans come with a free no risk 30 day trial period. Check out
our in depth review of Shopify here
and see why Shopify is our number 1 recommended shop for clothing companies.


Thread's not Dead is "the ESSENTIAL strategy guide for dominating the t-shirt business"
- Says Jeffery Kalmikoff, Former CCO of Threadless.com
Start your own clothing company and become the next Mark Ecko, Obey, or Johnny Cupcakes! Learn how to dominate the t-shirt business.

 How to Start and Grow your Own Clothing Company

 How to Build a Massive Following Using Social Media

 Case Studies and Interviews with the Best of the Best
Use the code "howtostart" for 20% OFF