I've been rereading Napoleon Hill's book Think and Grow Rich and it is an amazing wealth of knowledge. One thing he focuses on is the Golden Rule: One should treat others as one would like others to treat oneself.
It really is a great rule to live by in not only business but in life as well. Napoleon writes
"If you look to win at the other person's expense…you aren't helping yourself in regards to attracting more wealth and abundance into your life. It's also why so many people fail to achieve any lasting success and happiness – especially when they thrive at the expense of other people."
A business that is doing well is creating a great product for the consumer which the consumer is happy to pay for. You see business models like Zappos and Johnny Cupcakes doing well because they focus on the customer. If they didn't go all out for the customer the companies would just be mediocre at best. What is Johnny Cupcakes without a ridiculously over the top bakery themed store and all the extras put into the product… and what is Zappos without its 365 day free return policy and great customer service?
I've recently seen a clothing company not follow the golden rule and have seen their empire they created crumble because of it. I don't want to mention their name because even bad press still would get them press and I don't think they deserve anything. What this company did was sell shirts they didn't have promising that they would soon be shipped out. When customers complained on facebook they deleted the messages. They just got more and more complaints and finally months later gave an apology saying that they had grown so rapidly that they couldn't fulfill all the orders and they had gone through 3 different fulfillment companies which didn't work out. In the end all they gave was an apology and a coupon code for 30% off, which most customers hated because why would they buy more when they hadn't even received their original order from months before. They switched to a reputable fulfillment company but the damage has been done. I saw they recently only had 125 likes on facebook, which they had close to 100,000 before. Facebook must have deleted their account and they had to start over. Also they are selling a fraction of the number of designs they use to.
This person clearly was not treating his customer as he would have liked to be treated. He should have given an exact date when shirts were going to be printed. Let customers know immediately when complications came up and offered a full refund to anyone that didn't want to keep their order. Sure customers still might be mad that it was taking a while to get their items but they would understand, and if they really were unhappy they could get their money.
I ran into a similar problem when I was running my clothing company. I was selling a new shirt that was all about zombies and I was trying to get it out for Christmas. I had just started my clothing company and I didn't know that it can take a while to get shirts printed and shipped especially at Christmas time. I had the shirt on preorder and had already ordered 100 shirts a month and a half before Christmas. I ended up getting on some huge blogs and selling out before I even had my product. I talked to the screen printer and ordered another 200. Even though my screen printer originally said I would have them by Christmas as it got closer and closer I realized my shirts weren't going to get to me in time. I sent out a message to everyone that ordered a shirt. I gave them the option of getting a refund, which I got couple of, and gave everyone else a partial refund for their order for them being patient. I lost some money in refunds but I felt good about the situation. I wasn't overly stressed out because I let my customers know and they decided if they still wanted the product. I still didn't like that I unknowning lied in the beginning telling customers I would have a product shipped by Christmas when it didn't get shipped till a week and a half after. I never wanted to do that again and made sure to always be prepared and not to make any promises I couldn't fulfill in the future.
One should treat others as one would like others to treat oneself
Are you doing something in your clothing company that you wouldn't want someone to do to you? Are you lying to your customer for your own gain?
Need an E-Commerce Website?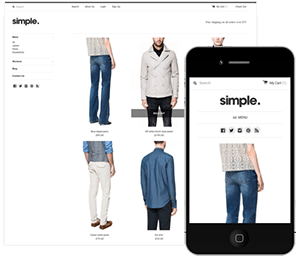 Shopify
is perfect for beginners and experts. You don't need to have any technical or design experience to easily create a beautiful online store with your branding. Choose from tons of well designed e-commerce templates that look great on desktops, phones, and tablets. Easily customize, create pages, add products, and you're pretty much ready to accept payments. Plans come with a free no risk 30 day trial period. Check out
our in depth review of Shopify here
and see why Shopify is our number 1 recommended shop for clothing companies.