There are a few ways to do this but the two most popular are printed tags and woven tags. Its totally a personal choice but these are some things to think of. Woven tags have high minimum orders so it will be a larger up front cost; you will also need a way of sewing them into your shirts which can add to cost if you have to hire someone to do this. Most start up brands go the printed tag route because it is fairly cheap and it can be done at the same time your shirt designs are being printed (most printers will cut the "stock" tags out of the shirt in order to print your custom ones in).
Ok so you have decided which method you would like to use for your relabeling and now you need to know what should go on the actual label. If you are printing your tags then you have a lot of creative freedom as far as design. Some companies even but whole new designs inside the shirt. Just layout something that fits the style of your brand and provides the correct information….Well what is that information!?
Here is what should appear on US apparel products:
# Size. Labels must be a minimum of 13/4 by 23/4 inches (4.5 x 7 cm).
Lettering. The required information must be no smaller than pica or 12 point type, with all parts of the information in letters of equal size and conspicuousness.
Country of Origin
* Imported products must identify the country where they were processed or manufactured.
* Products made entirely in the U.S. of materials also made in the U.S. must be labeled "Made in U.S.A." or with an equivalent phrase.
* Products made in the U.S. of imported materials must be labeled to show the processing or manufacturing that takes place in the United States, as well as the imported component.
* Products manufactured in part in the U.S. and in part abroad must identify both aspects.
RN# or Company Name
An RN# is a unique code for textiles that allows the garment to be "tracked".
You can obtain an RN# for free by going HERE. RN#'s are not required but you are required to label your product, this can be done with your RN or your companies name as it appears on business documents.
Care Instructions (there is a lot of talk about if this is really needed or not but according to the FTC it is very much required)
To learn how to write the proper care instructions click HERE
So there you have it, the info you need to make your tags for relabeling your shirts and stepping up to the next level. Trust me the extra cost is worth it and you will feel really great when you get your first batch of shirts with your own labels, it just completes the whole process.
Source: FTC.gov
Need an E-Commerce Website?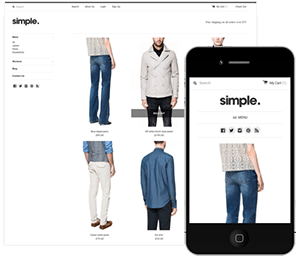 Shopify
is perfect for beginners and experts. You don't need to have any technical or design experience to easily create a beautiful online store with your branding. Choose from tons of well designed e-commerce templates that look great on desktops, phones, and tablets. Easily customize, create pages, add products, and you're pretty much ready to accept payments. Plans come with a free no risk 30 day trial period. Check out
our in depth review of Shopify here
and see why Shopify is our number 1 recommended shop for clothing companies.


Thread's not Dead is "the ESSENTIAL strategy guide for dominating the t-shirt business"
- Says Jeffery Kalmikoff, Former CCO of Threadless.com
Start your own clothing company and become the next Mark Ecko, Obey, or Johnny Cupcakes! Learn how to dominate the t-shirt business.

 How to Start and Grow your Own Clothing Company

 How to Build a Massive Following Using Social Media

 Case Studies and Interviews with the Best of the Best
Use the code "howtostart" for 20% OFF