When you ship out shirts to your customers, it's your last chance to make a positive, professional and lasting impression. Beyond the obvious – shipping good product that's neatly folded and arrives without being all beat up – there's a lot you can do to go above and beyond and make your customer's purchasing experience truly memorable. This in turn increases the chance they'll buy again, or recommend your shop to a friend.
To help you get started (and inspired) we've compiled a list of tips (with links for resources) for packaging your tees and some samples of really remarkable stuff that other folks have done.
Tips for shipping your shirts in style:
Invest a few extra bucks in plastic bags to individually package your t-shirts. This looks especially pro when you are shipping multiple tees out to a customer.
Order some hang tags to attach to each shirt. Some of the most memorable shirts I've received had tags that are as well designed as the graphics on the tees themselves. Put your company name, website URL, and some amazing artwork on your tag. There will be people who keep them just because they look cool.
Throw in a few stickers (here or here), buttons, or other trinkets with each order. These are cheap to produce in bulk, make sweet little freebies, and are great for promotion if they are cool enough that people will use them. Don't mention it on your website – just do it without saying anything and be a hero.
Find a way to say THANK YOU. Whether it's a hand written note, or a pre-printed message, let your customer know you really do appreciate their order.
Include a coupon code good on your customer's next purchase. Many big-boy retail shops follow this policy to lure shoppers back and turn them into repeat buyers. Even if it's just 10% off an order, you can easily increase your chances of getting that next purchase.
Read the rest of the article over at pop culture tees
Need an E-Commerce Website?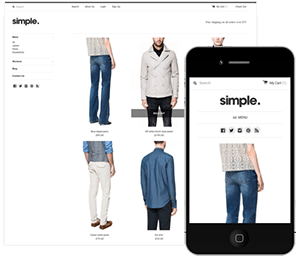 Shopify
is perfect for beginners and experts. You don't need to have any technical or design experience to easily create a beautiful online store with your branding. Choose from tons of well designed e-commerce templates that look great on desktops, phones, and tablets. Easily customize, create pages, add products, and you're pretty much ready to accept payments. Plans come with a free no risk 30 day trial period. Check out
our in depth review of Shopify here
and see why Shopify is our number 1 recommended shop for clothing companies.


Thread's not Dead is "the ESSENTIAL strategy guide for dominating the t-shirt business"
- Says Jeffery Kalmikoff, Former CCO of Threadless.com
Start your own clothing company and become the next Mark Ecko, Obey, or Johnny Cupcakes! Learn how to dominate the t-shirt business.

 How to Start and Grow your Own Clothing Company

 How to Build a Massive Following Using Social Media

 Case Studies and Interviews with the Best of the Best
Use the code "howtostart" for 20% OFF