One of the most overlooked details in t shirts is t shirt tags. When I say tshirt tags, I am specifically talking about the tags hidden away on the inside of your shirt. The tshirt tag that never sees the light of day, and is usually an afterthought. So after coming across some incredibly creative t shirt tags that in my mind add value and personality to a brand I decided to put together a list of companies that do an incredible job with their custom tshirt tags.
Some of these companies use silk screen tshirt tags, and some of these companies opt for the custom woven tag, which to me comes off a bit more professional.  I even found one brand that uses both a woven and a silk screen tag for the ultimate combination of awesomeness!  Whether you prefer the woven tag or the silk screened tag I think we all can agree that the t shirt tag is becoming an art of it's own.
T shirt tag examples
Personally I enjoy screen printed tshirt tags. Most screen printers will be able to do this option for you like thread bird. I like screen printed t shirt tags because they are comfortable.
I've also seen a lot of great hang tags that are attached with a safety pin. Anyone can get something printed and attach it with a string and safety pin it to your shirts. Better yet buy a stamp and hand stamp your design on a hang tag.
Woven tshirt tags look more professional and are still very affordable. I really like them on the bottom edge of the shirt like the ugmonk and johnny cupcakes examples above. Check out our recommended woven tag manufacturer, they make quality woven tags and are affordable.
Tshirt tag design tip
Selling shirts at shows I realized it is important to have the size of the shirt on the top, or at least near the top. You don't want to have to go searching through shirts and pulling down the collar to find the right size shirt on the tag. So think ahead and put this info near the top. Besides that, the sky is the limit.
Tshirt tag video
Resources:
Need an E-Commerce Website?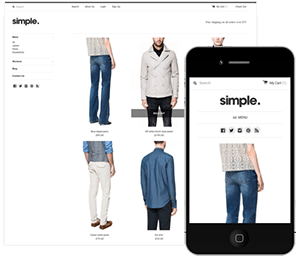 Shopify
is perfect for beginners and experts. You don't need to have any technical or design experience to easily create a beautiful online store with your branding. Choose from tons of well designed e-commerce templates that look great on desktops, phones, and tablets. Easily customize, create pages, add products, and you're pretty much ready to accept payments. Plans come with a free no risk 30 day trial period. Check out
our in depth review of Shopify here
and see why Shopify is our number 1 recommended shop for clothing companies.