Hey Jeff how's it going today?
Ugmonk: Busy, but good.
Before we get into Ugmonk tell us about yourself and your design background.
Ugmonk: I've grown up doing all type of traditional art and decided to get into design a several years ago. I started doing some t-shirt design when I heard about online contests like Threadless and Design By Humans. After winning a couple times at DBH, I became very interested in the t-shirt industry and began to do quite a bit of freelance t-shirt design. After doing freelance and contest shirts I decided that I wanted to create my own line and that's when I started Ugmonk. You can see some of my other design work at my portfolio site: www.jeffsheldon.com
So the first question…Ugmonk? Explain the name for us.
Ugmonk: Completely made up. It's just easy to remember and weird enough to help it stand out.
So, it's obvious you are a big fan of typography. What made you decide to make a tee line based around that?
Ugmonk: I am a huge fan of typography. After studying design, specifically the history of graphic design, I got really interested in typography and its impact on how we interact with design on a daily basis. Most people don't notice the little things that make each letter of each typeface different and unique. I began experimenting with using type as a design element for shirts rather than using it just to write out a slogan or brand name. The more I played with the letter forms, the more I realized the potential to base a clothing line around type. Mixing typography and t-shirts has been done before, but my goal was to find new ways to merge the two and bring something fresh and new.
I sort of see the line as a silent response to the current trends within tee design to make things very over the top. Am I right in this thought?
Ugmonk: Yes, that is one of the main reasons I decided to start Ugmonk. I have nothing against crazy illustrations, skulls/zombies, etc. but my my personal taste is for a much more clean geometric style. After searching quite a bit, I realized that there isn't that much out in the t-shirt world that appeals to people like me who tend to like the simple, clean design.
As you grow do you plan to keep the line type based or is the door open to other things?
Ugmonk: Ugmonk is definitely not restricted to just type-based designs as I continue to develop the Ugmonk aesthetic, I think there are other characteristics (I can work in) that keep the brand image consistent.
To follow that question, do you feel like Ugmonk has the versatility to become a full on apparel line?
Ugmonk: Right now Ugmonk is consists of t-shirts and posters, but will soon be expanding to other clothing and merchandise. I want to carry over the clean type-based style to all sorts of other products.
Using only type on your tees makes a very strong visual statement; Do you think there are any drawbacks to this look?
Ugmonk: I think that strong visual statement is one of the things that sets Ugmonk apart from the hundreds of other brands out there. The bold graphics and colors may not be for everyone but this is a key part about what makes it unique.
One of the biggest reasons I asked you to be in the AOK Mart is that everything from the brand is completely designed by you. Do you feel the consistency this allows is part of your early success?
Ugmonk: Being the sole designer for my brand has definitely allowed me to keep things very consistent and control the direction that the brand is moving in. Many brands hire outside artists to design their products which may work well for some, but can also prohibit the brand from establishing a consistent image. For me, designing is my favorite part and I hope to always be able to do it.
On the flip side do you ever feel being so close to the product can hinder things?
Ugmonk: For sure, it can go both ways. I like to bounce my ideas off my friends and other designer to get their opinions. Working solo can be nice, but can also have its drawbacks. If there is no one around to give to constructive feedback it can be like designing in a black hole.
You've seemingly gained a lot of traction in a very short amount of time. Personally, I think this is because the brand is very focused in its style. Do you agree?
Ugmonk: Yes, before I started Ugmonk, one of my goals was to have a consistent brand image and find a specific niche to market my brand to. I've been overwhelmed by the great response that I've received from the design community and t-shirt fans.
Going off the last question you've integrated the Big Cartel service into your site beautifully and in your checkout area you make note of things like your screenprinted tags. Do you believe your attention to detail and presentation are part of what separates you from being another tee shirt company from a brand with a future?
Ugmonk: Those are the small things that take a little extra thought and work, but also contribute to the success of Ugmonk. I wouldn't call myself a perfectionist but I am very picky about the details.
Talk us through some of your favorite Ugmonk products.
Ugmonk: My favorite t-shirt is "And Then I Woke Up." I am a big fan of ampersands and was really pleased with how the print came out on the tri-blend shirt and it's by far the most comfortable shirt I own.
I also really like "Math Problem." There is something about a giant Clarendon number five that just works so well on a t-shirt. The yellow version definitely gets a lot of looks and it's funny to see people's expressions after they read the shirt.
What do you feel are some mistakes you've made thus far?
Ugmonk: The main mistake that I have made so far was not getting samples from the printer before I had the first batch of shirts run. Since then I have found a great screen printer who does awesome work and is a pleasure to work with.
Any advice for upcoming brands?
Ugmonk: Have a plan and think things through before deciding that you are going to print some shirts and try to sell them. Decide what you want your brand to represent and how you are going to make it stand out. There is a lot more to running a brand that one might think, so be prepared to dedicate a lot of time and effort if you want it to succeed.
Who are some brands out there you're currently digging?
Ugmonk: I have always loved the work or Scott Hansen (ISO50) and his distinct style. I really admire his attention to detail and would wear any of his shirts. I'm a fan of Johnny Cupcakes and what he has done with his brand. His story is very inspirational and is a great model for young brands to follow.
What's coming up for the brand and any shout outs?
Ugmonk: Lots more in store for Ugmonk. Stay up to date by subscribing to the Ugmonk Newsletter.
Thanks for the interview!
Need an E-Commerce Website?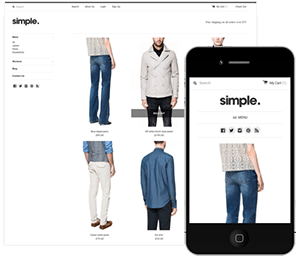 Shopify
is perfect for beginners and experts. You don't need to have any technical or design experience to easily create a beautiful online store with your branding. Choose from tons of well designed e-commerce templates that look great on desktops, phones, and tablets. Easily customize, create pages, add products, and you're pretty much ready to accept payments. Plans come with a free no risk 30 day trial period. Check out
our in depth review of Shopify here
and see why Shopify is our number 1 recommended shop for clothing companies.