After recently returning from the Pool Trade show in Vegas with •MILES TO GO• , I realized that for most of us with smaller clothing lines, doing a trade show is one the things we know the least about.  My goal is to shed some light on the arena of trade shows and help you decide if it is something your line is ready to do.  Although my experience may be different from yours, this article should help you decide if the time is right and help you be prepared if you go into one.  There is nothing worse than being underprepared for an event like this and I saw first hand a few failures because of it.  I will touch on what I think are the most important topics from what to bring, who buys, how they do it and pricing points.  This was my 2nd event, starting first in London for London Edge and I will speak more about Pool since it is the show that would be the one most of us would be considering doing.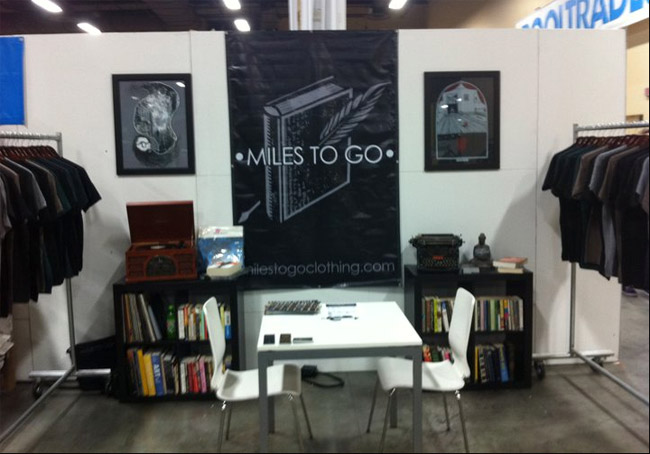 How does a booth work?
An 8' deep x 12' wide space at the Pool show is $3500(in 2012) and comes with 3 fixtures.  The fixtures can be your choice of clothing racks or shelving units.  For the majority of us, the racks are the most important because we can hang our range on them and the shelving helps a lot when dealing in accessories like hats, etc.  Within that space, your goal is to create a space that represents the brand.  You can bring whatever promotional items you want and decorate the space however you see fit.  I chose to design my space like my living room to give an inviting feel by bringing a bunch of books, an old typewriter, record player and a lot of old jazz on vinyl to spin during the show.  It gave an inviting atmosphere, fit my brand esthetic and brought in a lot of people wanting to look at the books or records.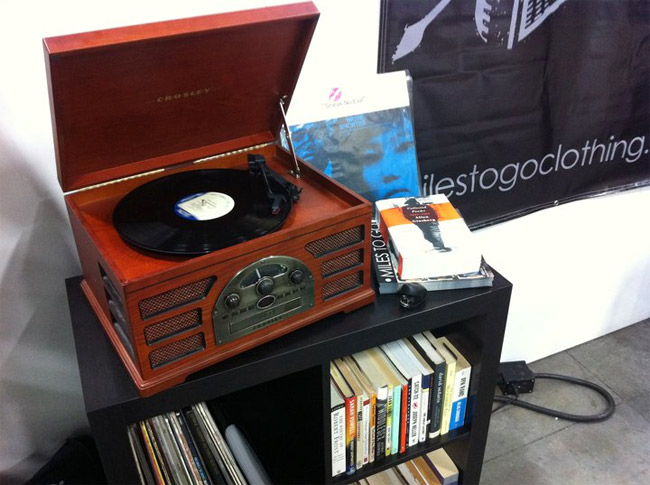 What should I bring to a show?
Beyond the obvious need of your product, it is crucial to have good line sheets to hand out, order forms, a lot of business cards and any other promotional items you think people may enjoy to help them remember your brand or booth.  I had bookmarkers to give away but it was mostly line sheets and business cards being given away.  They are there to buy and although stickers and buttons may be great at a live selling event, they don't have the same impact with this crowd.  The industry standard in regards to your shirts is to bring mediums.  I brought two full runs of my collection on medium and also brought one full size run of a design in case they wanted to see what a 2X or XS looked like.
What is a line sheet?
A line sheet is collection of your line, item codes, pricing, and any other info relevant to the products.  I print on American Apparel and use discharge inks, so I made sure to mention that.  Below are images of what I used for both my line sheet and order form.  The stacked image shows the front and back.  I think it's very important to have a professional looking line sheet that the buyer can take home.  A lot of buyers go to collect information that they will take home and order post show, so you want to leave a great impression.  I got mine printed at http://www.nextdayflyers.com/sell-sheet-printing/ and they do a great job and allow lower quantities.  I brought 250 and handed out probably close to 200 of them at the show.  This is an example of the printed sheets I brought to the Winter 2012 show.  Tees on front, brand supporting images and contact on the back.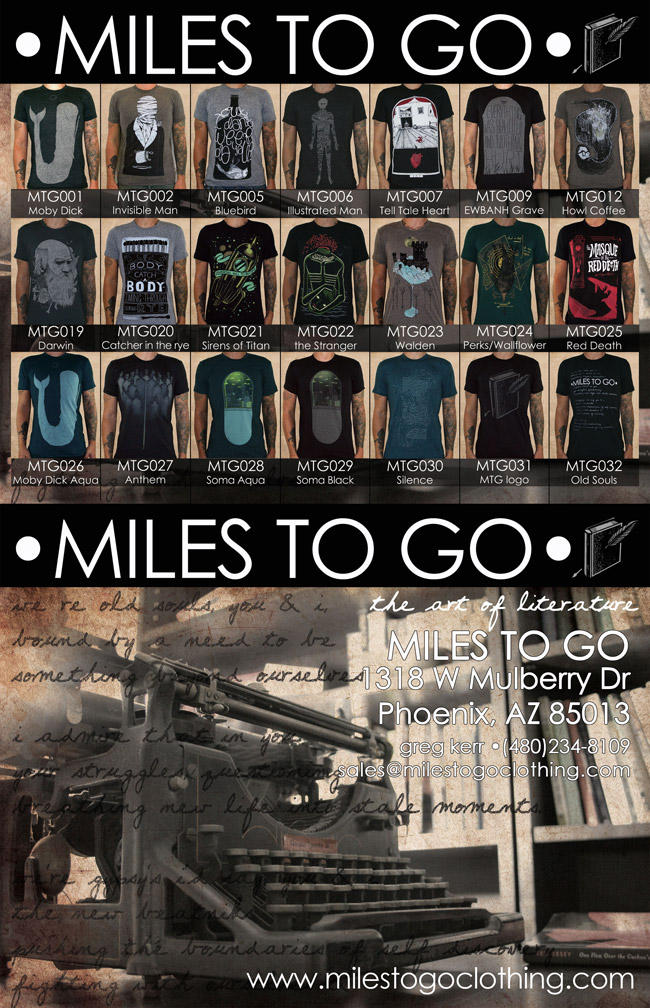 What kind of buyers go to Pool?
Pool is filled with mostly boutique owners who will place smaller orders ranging from 24-36 pieces.  Why? Well, most of them own a small shop and space and budget are limited so they want to test a brand and wouldn't have the space to buy 200 shirts from you.  Although a lot of orders are smaller, I was approached by Urban Outfitters(turned them down), Nordstrom, Top Shop UK and plenty of buyers who own multiple locations including one in New Zealand with 8 locations.  Those orders can prove to be very large and you need to be prepared for all size buyers.
How do I figure out pricing and what do I do when a major retailer shows interest?
Pricing on the average would be ½ of your retail rate.  My shirts are $25 apiece online and I made them wholesale for $12.50.  I print my own garments and chose to trade exposure for profit and buyers were happy to pay $12.50.  Most boutique buyers will not argue price unless you are pricing way too high for them to make any money.  After doing wholesale, you start to see why a lot of brands price their shirts at the $30 mark instead of $20-25.  If you have interest in doing big box retail(macy's, urban, zumiez, etc) you need to be aware of how they function.  I will use Urban Outfitters as an example since they approached me and I said no.  Urban will pay $7.50 for a shirt on a blend(tri-blend, heather 50/50, etc).  Even with me printing myself, my Moby Dick shirt costs at least $7 to make.  So, my options are make 50 cents per tee in trade for an order of 5000 shirts or print on a cheaper quality blank in order to make some money.  Most companies choose the later route.  I told them I was not willing to sacrifice my brand's quality to be in their store and I personally feel that for my brand, Urban would ultimately hurt my brand image although it could bump sales a ton and the brand's exposure.  Most major retailers will offer you a similar price regardless of what you charge, so if you have interest in doing major retail and print on a pricey blank like AA, you should go in knowing an alternative brand you could print on and your cost before faced with a deal and you have no solid answer or clue of how to make it work.  As an incentive for stores to write orders at the show, I also offered free shipping.  May sound crazy but people got really excited about it and although it cuts into my profits, it helps me know my numbers to order quicker.
How do trade shows relate to live events like craft fairs, warped tour or other live selling events?
The only relation and one that is crucial is your ability to sell your brand with confidence.  Those of you who do shows and tend to always outsell the booths around you know that how you present yourself sharply affects sales.  I saw people sitting down at the show, even when buyers walked up and it conveys a lazy approach to your business.  I maybe sat down for 10 total minutes over 3 days and was engaging when buyers came up.  You need to be able to convince a store regardless of their size or buying power that they should invest in your brand and you.  A lot of us are the embodiment of our brand, so you need to have confidence.  If you have barely any experience selling at events open to the public, you may not be ready to handle a trade show.  I saw brands with timid owners and most of them fell flat on their face.  Don't be too aggressive, but do convey a confidence in yourself and your product.
When is the right time to do a trade show for my brand?
Although this changes for everyone, I would suggest holding off until your product has a strong image and cohesion that shows you are a brand, not a guy with some shirts.  Stores are looking for the hot new emerging brand, not a mess of designs slammed together.  You need to also be at a point that you can properly fund whatever level of orders you receive.  If a store orders 8000 shirts, can you afford to print them?  And, can you afford to do it if they do 30-60 day terms?  Have a financial plan in place before you go whether that's seeing if your local SBA(small business association) will grant loans against a P.O. or a family member that would float you money on an order you know you will get paid for.  Shows like Pool should also be seen as a long-term investment as opposed to a quick money maker.  For the most part, if you break even, you did pretty well.  These accounts you make at the show can end up paying long-term and can potentially bump your online mail order in each area.  After getting a shop in Paris, I went from mailing to France once a month to a few times a week.
How do seasons work and how to know when to ship?
A lot of buyers at the show are buying for an immediate order, which on average will be a one month lead time.  For instance, the show was late August, so all of my orders placed at the show are set to mail by Sept 21st.  Some buyers asked me to ship in December instead because all of their fall buying was done.  Larger brands will be showing their winter, spring, summer and sometimes next fall collections.  For the little guy, it is best to bring samples of your new line to the show and place pre-orders.  So, when you get home from the show and have your numbers, you can add them into what you need for stock in your online store.  It stinks to print, do the show and realize you are short 3 larges and need to pay to reprint the shirt and may have to print 36 of them to get those 3 larges.  Plan ahead because reprinting when you only need a few kills your profits.
How did I do at the show and what happens post show?
Without getting into specific sales figures, I wrote orders for 15 stores at the show and my minimum order is 24 total pieces for a store to carry me.  You meet a ton of great contacts at these shows and each business card can be a follow up sale.  Since returning, I have landed 3 more accounts from emailing people who showed a lot of interest.  On top of store owners, I met a guy who wants to do an article in inked magazine, people who run very influential fashion blogs and a lot of people with the power to give •MILES TO GO• a lot of exposure.  You never know which person you meet that will help you down the road.  I even had one person do a blog write up after meeting me that brought in over 500 people to my site and generated 50 shirts ordered from my store.  Be professional and confident if you choose to do a trade show and good luck.
Greg Ker has run Miles to Go since 2007.
Now has helps companies manufacture pins through pingamestrong.com
Need an E-Commerce Website?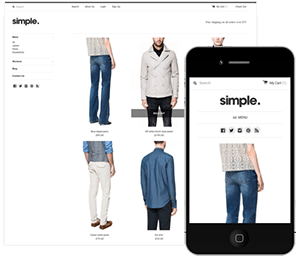 Shopify
is perfect for beginners and experts. You don't need to have any technical or design experience to easily create a beautiful online store with your branding. Choose from tons of well designed e-commerce templates that look great on desktops, phones, and tablets. Easily customize, create pages, add products, and you're pretty much ready to accept payments. Plans come with a free no risk 30 day trial period. Check out
our in depth review of Shopify here
and see why Shopify is our number 1 recommended shop for clothing companies.