In the beginning I worked as hard as I could to do everything. I wanted to make it and be able to live off of the clothing company I started. This made me work long hours with little sleep to try and get everything done. T-shirts were everything for me for a little while. I eventually realized that my business isn't everything, it is just what I do to make money. Although I love what I do it doesn't define me as a person and there is more to life than just working.
Recently I have been working on my business system. How do I keep on generating sales and income without doing all the work? The answer was very simple, get other people to do it (read my post on delegation for more info). Every successful business is run on the simple concept of get bigger checks and write smaller checks. So once you've got that business system down and don't have to do work all the time what do you do then?
ANYTHING YOU WANT!
It's awesome. I've been reading tons of books, hanging out with friends more and working on personal projects that I always put off because I was too busy. Once you've found a way to work only a couple hours a week and still make money you'll be able to work and do things that are more important to you.
This isn't the easiest thing to let go of your business. The best clothing companies I see have been built by people that are perfectionists and do everything themselves. These people usually find it very hard to let go because they are use to being in control of everything. What this usually means is a lot of stress and them finding out that their dream job wasn't everything it was cracked up to be.
Need an E-Commerce Website?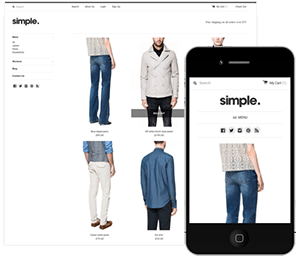 Shopify
is perfect for beginners and experts. You don't need to have any technical or design experience to easily create a beautiful online store with your branding. Choose from tons of well designed e-commerce templates that look great on desktops, phones, and tablets. Easily customize, create pages, add products, and you're pretty much ready to accept payments. Plans come with a free no risk 30 day trial period. Check out
our in depth review of Shopify here
and see why Shopify is our number 1 recommended shop for clothing companies.


Thread's not Dead is "the ESSENTIAL strategy guide for dominating the t-shirt business"
- Says Jeffery Kalmikoff, Former CCO of Threadless.com
Start your own clothing company and become the next Mark Ecko, Obey, or Johnny Cupcakes! Learn how to dominate the t-shirt business.

 How to Start and Grow your Own Clothing Company

 How to Build a Massive Following Using Social Media

 Case Studies and Interviews with the Best of the Best
Use the code "howtostart" for 20% OFF