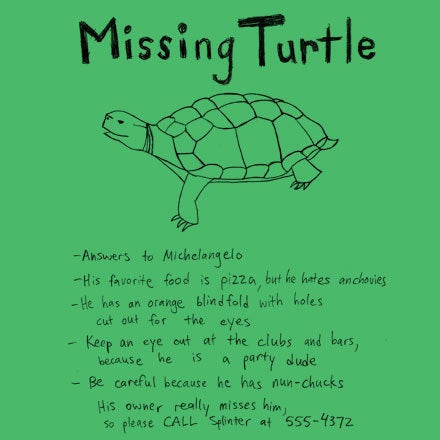 When I started mediocore about 2 years ago I wanted to do everything. I wanted to design the shirts and website, screen print everything, and do all the marketing myself. This is how a lot of self employed people think when they start a business. They don't trust others and they want to do it all themselves. It's also hard in the beginning when you aren't making much money to pay someone else.
My first shirt I did wasn't bad. It was just a one color shirt I did for my missing turtle shirt. Building my own screen press and learning how to screen print really made me appreciate all the work that a screen printer does. I knew I wasn't going to be able to do anything more complicated then 1 color prints so I went out to find a screen printer.
I started making some money on my first shirt so I decided to print my second shirt. It was a line from 30 rock that said "Live every week like it's shark week". I did my research and went with a company I thought was reputable. I printed 100 shirts which looking back was a bad decision. Any new shirt you want to print the minimums and use that information to know what sizes sell or even if that design is a good seller. I talk about it more in the article "How many shirts should I print".
The shirts turned out terrible. The printer was nice enough to reprint the shirts for free but it was still hard for me to trust a printer. The next printer I chose was much better and I was 90% satisfied. I say 90% because they didn't have the best communication with me and sometimes left me in the dark. Also sometimes the ink would turn out thicker then I wanted or the colors didn't match up perfectly. He was a great printer but I knew things could be better.
The third printer I found when I was starting up Shred a year ago. They sent me digital proofs of the designs on a shirt and their service and quality has just been amazing.  Besides being on the ball with their service they also have printed some amazing shirts for my clothing companies. They were able to print some 9 color oversized prints and make them still feel soft. Click here to check the screen printer Im talking about
Back to starting out… I could have just given up after the first bad batch of shark week shirts and my story could have ended but I pushed through. After a couple month ordeal they reprinted the shirts just in time for Shark Week. I sold around 30 shirts that first weekend, it was awesome. Shark week is still my best selling design and this last Shark Week season I sold 150 of them during the week. I was pumped. It was very much like winning a big pot in poker, my adrenaline was rushing and I knew I could make a living out of this.
My next step of letting go and delegating work was hiring other artists. I am not a great artist, I did the Shark week, Missing Turtle, and Complimentary Colors shirts and as you can tell they are all very simple. I found great artists through emptees.com and always pushed their work to be as great as it could be. This made a big difference in my company, the shirts that I was making were awesome and there wasn't anything getting in the way anymore. Just because I couldn't do something didn't mean it was impossible it just meant I had to find someone that was great at it and hire them.
When I deal with artists I try my best to communicate the best that I can. With shirts I usually mark up the changes in photoshop with notes so the designer clearly know what I am talking about. The same goes for working with web developers, when I need them to make changes in a site I pick my words very carefully so they know what I am talking about and will sometimes include pictures. My girlfriend always says I am very direct and that can be overwhelming for some people. It is very true, but I need to be direct and tell people exactly what I if I expect them to do it. A few words of encouragement always goes a long way to.
The parts of the business that I have been focusing on are e-commerce development, internet marketing, and product development. What everyone should do is find what they are best at then hire out help to fill in everything else. You will have a lot more well rounded company and make more money that way. Also the goal with every business is to have be self sufficient. You want to hire creative directors in charge of designs, a marketing director, president, you want to get the best of everything and be able to walk away from your company for a year and see it making even more money when you return. It's hard to think that I will ever be able to do that but for now I am taking steps towards that goal. These are my first businesses and they are all a huge learning experience for me.
Let me know what you think of this post. It was a lot less on point and had more of my personal story. Do you think this is better or worse then just writing down the facts.?
Need an E-Commerce Website?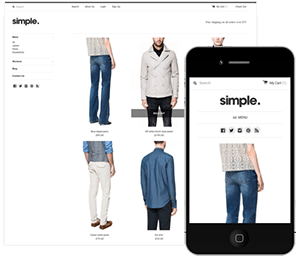 Shopify
is perfect for beginners and experts. You don't need to have any technical or design experience to easily create a beautiful online store with your branding. Choose from tons of well designed e-commerce templates that look great on desktops, phones, and tablets. Easily customize, create pages, add products, and you're pretty much ready to accept payments. Plans come with a free no risk 30 day trial period. Check out
our in depth review of Shopify here
and see why Shopify is our number 1 recommended shop for clothing companies.