Hi guys Jon Kruse here from how to start a clothing company. Today I'm reviewing a new e-commerce store system called storenvy which offers a free stores to everyone. It is most similar to big cartel which charges  $10- $20 a month for it's services but also includes a bunch of social networking stuff  to get your site seen.
Big cartel vs Storenvy
Bigcartel
There are only two things that big cartel has storenvy beat on. One is that you can use cnames on bigcartel and use your own domain.  The other is big cartel lets you have multiple pages you can edit and storenvy doesn't let you add any extra pages besides the faq and contact pages. The downside is you have to drive all the traffic to your site by yourself and it costs you $20 a month for their best plan.
Storenvy
First and foremost it's free and you have to love free. They have up to 5 pics per product, on bigcartel it would cost you $20 a month. The stats they give in the admin panel are great, even though you should be using google analytics to track all your stats.  I really like how easy it is to design a site in css and there are a couple sites that have started customizing their stores. Check out my site I did for my clothing line Shred and check out this site for Fashion Loves People. Storenvy has social networking to get you traffic and make sales. Finally I've spoken to the guys that work behind the scenes and they are passionate about what they've created and plan on making a lot of improvements.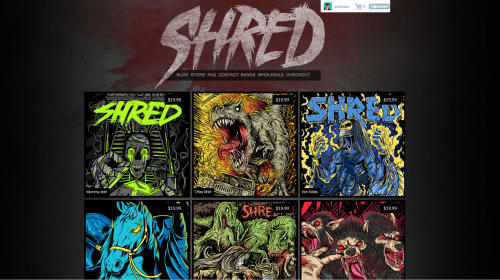 What the owner of Storenvy had to say.
"Storenvy doesn't want to be just another online store system. There are hundreds of them out there already and have some of the same problems. They require you to drive all traffic to your store yourself, they only offer fulfillment, or made for only stores who are well established. On top of that in this day in age the internet is all about being social. Storenvy wanted to fix all of those problems and build the first Social Store Community.


Shopping Features.

Buy from multiple stores at once all shipping from different locations around the world. Pay all stores at once with one checkout.
Shoppers have the ability to browse between all stores at once by different product categories. From Apparel, Jewelry, Music, Books, Housewares, Toys and more.
Markets are a group of stores with similar interest. Example being handmade, Metal bands, & clothing companies. Shoppers will be able to see all stores in each market along with browse all products, and a forum to discuss what they find.


Social Features

Shoppers have the ability to make their own user profile/user account. With this they have the ability mark items they find on Storenvy as favorites, share with their friends, follow a store, leave comments, chat on the forums, and follow their friends and see what they are doing.
When you follow a store you find out whenever they add new products.
When you follow another Storenvy User you find out what they are favoriting, and comments they are making to help you find out about new and interesting items they discover.
Shoppers also have the option to share your favorite products they find on their facebook wall. (we are setting up Twitter integration right now as i type this)"
Storenvy is a great start for what looks like a very bright future. It doesn't have big cartel beat on everything just yet but they also have a lot of things bigcartel doesn't  have like a free system with social networking. I just made the switch last week and am really happy with what storenvy has to offer.
Also besides their e-commerce stores I know about storenvy because of their printing. There are lot of people out there that can vouch for their printing and really it's the best printing/service I have ever gotten from a screen printer.  Large oversized prints, bright colors, and everything is super soft (no big piece of plastic here). Storenvy is offering 75 cents off American Apparel printed shirts until December 1st. I'm not sure if they still do this but when I first talked with them about printing they offered to send me a sample shirt, just ask Nick. Go to the storenvy printing page by clicking here.
Need an E-Commerce Website?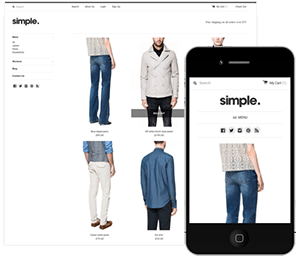 Shopify
is perfect for beginners and experts. You don't need to have any technical or design experience to easily create a beautiful online store with your branding. Choose from tons of well designed e-commerce templates that look great on desktops, phones, and tablets. Easily customize, create pages, add products, and you're pretty much ready to accept payments. Plans come with a free no risk 30 day trial period. Check out
our in depth review of Shopify here
and see why Shopify is our number 1 recommended shop for clothing companies.


Thread's not Dead is "the ESSENTIAL strategy guide for dominating the t-shirt business"
- Says Jeffery Kalmikoff, Former CCO of Threadless.com
Start your own clothing company and become the next Mark Ecko, Obey, or Johnny Cupcakes! Learn how to dominate the t-shirt business.

 How to Start and Grow your Own Clothing Company

 How to Build a Massive Following Using Social Media

 Case Studies and Interviews with the Best of the Best
Use the code "howtostart" for 20% OFF